Availability:
In stock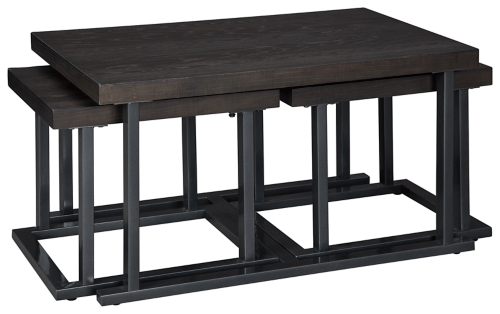 Description:
Cocktail TBL w/2 Stools (3/CN)
Dimensions:
Inches: 36" W x 24" D x 20.13" H
Metric: 914.4mm W x 609.6mm D x 511.3mm H
Item Description:
Talk about sitting pretty. Sleek, chic and sophisticated, this 3-piece coffee table set is what urban-contemporary styling is all about. This mixed-media masterpiece blends sturdy metal and ash veneer/engineered wood for an earthy-upscale aesthetic. Tucked under the coffee table, two bunching tables create such a cool staggered effect. On their own, they do double time as impromptu seats or side tables. What form and function.
Series Features:
Urban contemporary styling. Made with wire brushed Ash veneer with engineered wood substrate and metal bases. Tops are finished in a graphite color and the metal bases feature an aged bronze color. The cocktail table packs with two bunching tables. The end table has open shelves and an AC power supply with 2 USB charging ports. T394-1 stool dimensions: 21"W x 18"D x 17"H.
Weight (lbs/kgs):
74 / 33.57
Cubes (ft/m):
5.46 / 0.15