Availability:
In stock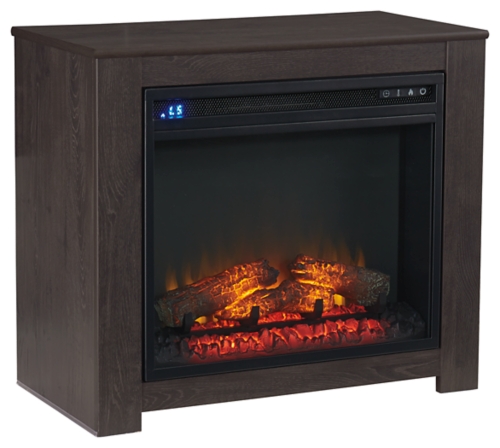 Description:
Fireplace Mantel w/FRPL Insert
Dimensions:
Inches: 29.76" W x 15.63" D x 25.83" H
Metric: 755.9mm W x 397mm D x 656.08mm H
Item Description:
Sporting urban sleek lines and a two-tone finish, this fireplace mantel with fireplace insert fits right in with your big picture scheme. Beautifully "weathered" treatment of the inlaid plank-style boards has a very "reclaimed" quality. Bringing a touch of romance to the scene with realistic logs and glowing embers, the provided LED fireplace operates with or without heat and includes a six-level temperature setting, remote control and overheating control for added safety.
Series Features:
A sophisticated two-tone modern chunky group look with large matte black hardware. Warm gray vintage finish with white wax effect and replicated oak grain on door and drawer fronts. Cases framed with vintage aged black/brown finish over replicated oak grain. The W325-68 is compatible with the W100-02,101 LED fireplace insert. Entertainment piers feature open glass shelving for display with display light and doors for storage. The W325-68 includes side roller glides for smooth operating drawers. The LED fireplace insert is included with the W325-368 fireplace mantel.
Weight (lbs/kgs):
78 / 35.38
Cubes (ft/m):
10.43 / 0.3