Delivery, Installation, and other Services
Since 1980, Home Video Library Electronics has been locally renowned for its exceptional support and friendly customer service. Now, nearly forty years later, we strive to continue and improve upon this tradition, offering delivery, installation, and in-home or over the phone troubleshooting and support for everything we sell. 
Free Walkthroughs and Estimates in the Portland Area
Deliver and Installation - Starting at $99/hr

TV Delivery and Wall Mounting
Furniture Delivery
Home Theater Installation
Wi-Fi and Internet Network Installation and Configuration

Service and Consultation - Starting at $99/hr

Troubleshooting
Reconnecting Existing Equipment
Programming Universal Remotes
Advising on Equipment Purchases Based on your needs
Tape to DVD Conversions - Starting at $10/disc
Rear-projection Bulb Replacement - Starting at $99
Appointments for delivery, installation, or service are available Monday through Saturday between 10 am and 5 pm. Generally, we're willing to cover any part of the greater Portland metro area (or further, if need be), though additional fees may be applied to compensate for additional travel time and fuel costs. Use the map below to roughly estimate trip fees.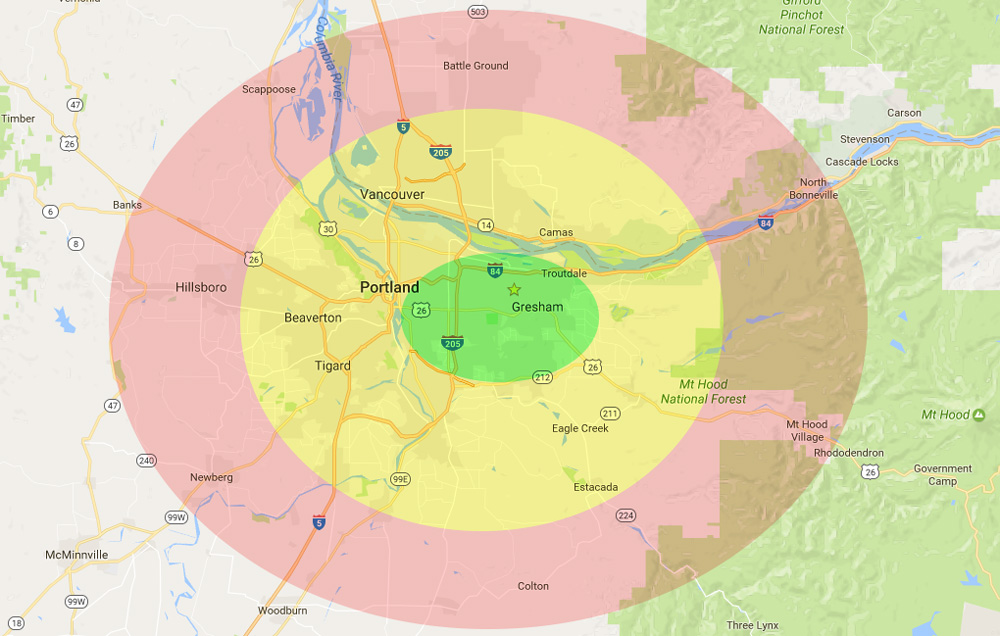 GREEN: No additional travel charge
YELLOW: Additional $25 travel charge
RED: Additional $50 travel charge
---
Delivery and Installation
Our experienced technicians, most with a minimum of five to seven years in the consumer electronics industry, always try their best to address any concerns you may have at the time of delivery. 
Basic Installation - For $99, we will:
Spend up to one hour connecting new and existing equipment
Connect smart devices to an existing network
Explain the operation of this equipment to the person(s) present
Haul away your old TV set, or reconnect it in another room
Program an existing Xfinity, Dish Network, DirecTV, or similar remote
Perform basic configuration and calibration of the equipment, when necessary
If this process takes significantly more than an hour, it may be necessary to charge an additional fee to cover our time (usually $99 for each additional hour).
Wall Mount Installation - For $225, we will:
Do everything included with a Basic Installation
Mount one TV set into drywall or wood with a mount purchased from our store
Conceal wires in an existing tube, or with wire molding (not included)
Mount additional sets for an additional $150 each
If this process takes more than two hours, it may be necessary to charge an additional fee to cover our time (usually $99 for each additional hour).